So this is the wrap up for Secret Santa 2015.
Thank you to everyone who's taken part, from the gift creators to beta readers and cheerleaders. A special thanks to our pinch hitters

raise_the_knife
and

yanzadracan
, and to

scribble_myname
,

perpetuations
,

esgeee
,

findthesea
,

geckoholic
, and

frea_o
for their help with banner making.

esgeee
has also made a bunch of participation banners, which can be found
HERE
.
All gift creators, as well as banner makers, have now been revealed on individual posts and in the masterlist below, so feel free to now post, share, and link to your gifts wherever you like. It'd be nice if you'd link back to the comm somewhere and if you decide to use your Secret Santa banner please do remember to credit your banner maker. The AO3 collection is
HERE
with the collection name
Be Compromised Secret Santa 2015
and our community also has it's own AO3 tag
Community: be_compromised
which never fails to make me smile.
It's been lovely to see so many newcomers taking part, amusing and interesting watching you narrow down the choice for who you would have as a giftee through anon prompts, and fantastic as always to see all the enthusiasm and commenting. We hope you've had a great Secret Santa!
And now, for reveals and to catch up on any gifts you've missed… THE MASTERLIST: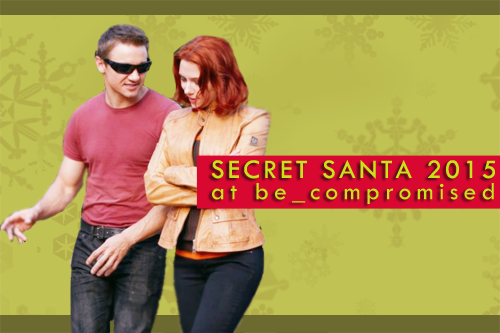 banner by

esgeee
( SECRET SANTA 2015 MASTERLIST )